Your donations make a difference!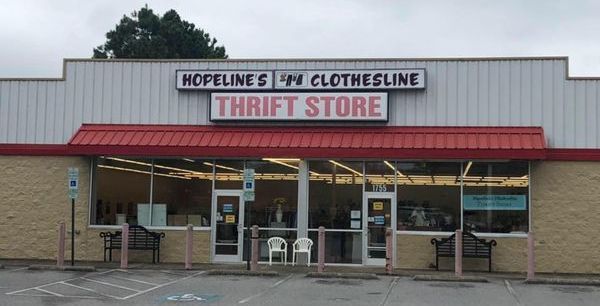 Address: 1755 Weeksville Rd, Elizabeth City, NC 27909
Phone: (252) 338-3107
Hours: Monday through Saturday 10am-5pm - Donations are accepted during all store hours
Albemarle Hopeline operates Hopeline's Clothesline thrift store in Elizabeth City.  All profits from this project are used to directly support Hopeline services for survivors of domestic and sexual violence in our community. Since it is not uncommon for a survivor to arrive at Hope House shelter with only the clothes on their back, Clothesline also provides direct services to our agency's clients, who can receive needed items free of charge. Survivors can also shop for household items when they are setting up new homes after leaving an abusive relationship. 
Clothesline is always in need of volunteers to help sort and stock donated items. Teenagers 14+ are also welcome to volunteer, but will require a parental permission form. Call the store directly for information about volunteering. 
Donations are accepted during all store hours, and a tax receipt is provided. 
Most needed items:
Children's clothing and shoes
Winter coats (accepted all year long)
Furnishings especially smaller items like bookshelves and end tables
Kitchen items such as small appliances, dishware
We accept men's, women's, and children's clothing, shoes, and accessories; household items including linens, dishware, decorative items and furnishings; books, toys and games; luggage; sporting goods; pet-related items; and nearly anything not listed in the exclusion list below.
Items Clothesline cannot accept:
Mattresses and box springs (unless new in plastic)
Large appliances (eg. washing machines), light fixtures that require wiring 
Cribs and carseats
Box-style TVs or entertainment centers
Printers over 2 years old
Computers
Items that are broken or excessively soiled
Encyclopedias, old textbooks, or any books that are mildewed
---
Hopeline's Clothesline has a recycling program for textiles! If you have clothing, linens, stuffed animals, or shoes that are not in good enough condition for us to resell, you can recycle them at Hopeline's Clothesline!
Please bag recycleables separate from donation items in resale condition, and notify our staff or volunteers when you are dropping off items intended for the recycling program- this saves tremendous sorting time and puts more dollars back to our mission.
What should I recycle versus donate?
DONATE clothing, accessories, and household linens that are not ripped, stained, broken or worn to excess. And of course all our usual housewares, sports equipment, small furnishings, decor, toys, etc.
RECYCLE textiles that are not in good condition such as all types of clothing in any size including socks (even mismatched or singles!), undergarments, pajamas, and costumes; accessories such as purses, hats, or belts even if they are broken; shoes- even a single shoe in terrible condition can be recycled!; household linens such as sheets, towels, washcloths, blankets, curtains, even small rugs like bathmats; pillows; stuffed animals; and nearly anything else made out of cloth!
Call us at 252-338-3107 for more information about the recycling program.