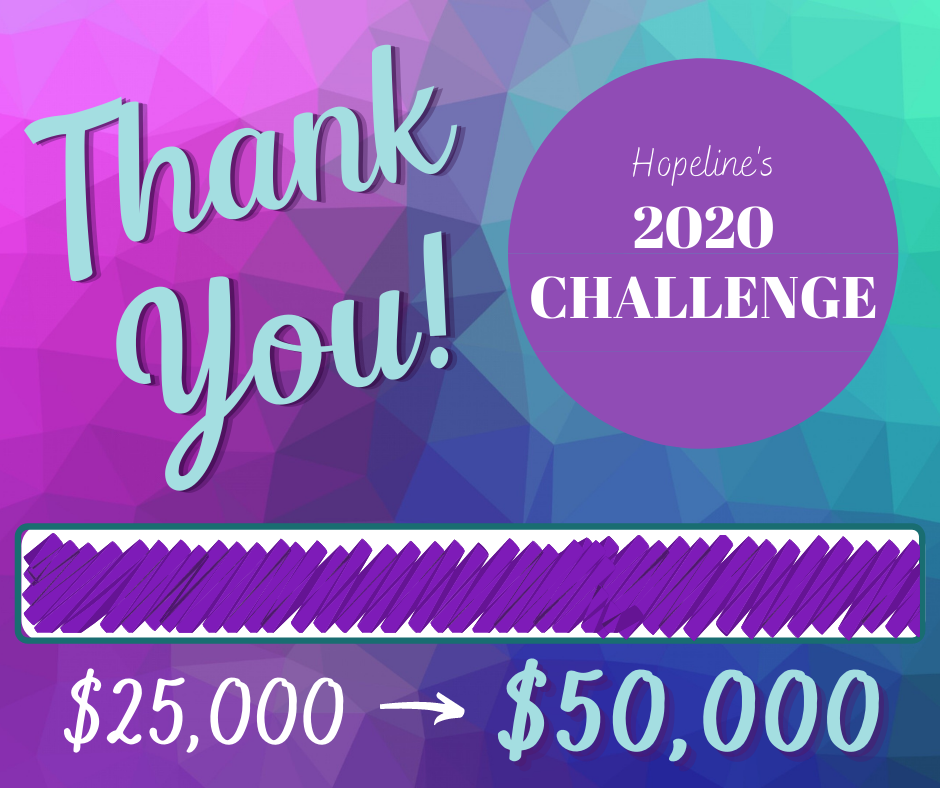 JOIN THE CHALLENGE
UPDATE!
We did it! Albemarle Hopeline would like to express our deepest gratitude to all those who contributed to our 2020 Challenge Campaign! This was such a difficult year, making the support of our community especially meaningful. Thanks to the generosity of so many, we successfully raised $25,000 in new or increased gifts, qualifying us for matching funds from the Anonymous Trust. These funds will provide life-changing and, at times, life-saving services for those whose lives have been impacted by domestic violence and sexual assault including crisis response, safety planning, emergency shelter, counseling, support groups, advocacy, and much more. We are so thankful that so many individuals, families, organizations and businesses support our mission.
---
Under normal circumstances, Albemarle Hopeline fundraises every single day at Hopeline's Clothesline Thrift Store. Due to COVID-19, not only did the store close for several months, but all fundraisers including our signature "Walk a Mile in Her Shoes" event were cancelled. It is difficult to predict what the upcoming year might look like as we anticipate state and federal budget cuts that could critically impact our organization.
The 2020 Challenge is our single "ask" this year. Revenues from this campaign will fund:
 Emergency shelter for victims who are not safe in their homes.
 Supportive services to help victims become survivors including counseling, advocacy, court accompaniment, and the "Power to Improve" program which helps clients reach their financial, employment, and educational goals to sustain violence-free futures.
 Critical PPE and cleaning supplies for our shelter, clients, and staff
 Hopeline's Annual Christmas Project and Back to School Campaigns*
 Operating reserves to protect against future lost revenues due to COVID-19
*You may indicate on your contribution if you would like your gift to be restricted to one of these projects.
Your gift will go farther this year:
Our goal is to raise $25,000 in new* or increased* gifts between June 1st and December 31st, 2020. If we meet this goal, all $25,000 will be matched by the Anonymous Trust.
*New donations are from any donor that has not given to Hopeline in the past 18 months. Increased gifts include any amount over last year's contribution.
Ways to give:
1. Mail a check to:  
P.O. Box 2064
Elizabeth City, NC 27906                        
2. Donate online via credit card by clicking the button below. 
Please consider becoming a monthly supporter. A gift of $5, $10, or $20 per month adds up over time!